Available sizes
Available in 1½", 2" and 3" Sizes.
Housing Materials
Available in aluminium, and stainless steel construction (stainless steel corrosion resistance comparable to 316 Stainless Steel).
Seal Materials
Range of seals including: Buna-N, Fluorocarbon, PTFE, EPDM, Chemraz®.
Thread
Female Threads – Can be fitted to either a male pipe end or to a hose fitting.
Dimensions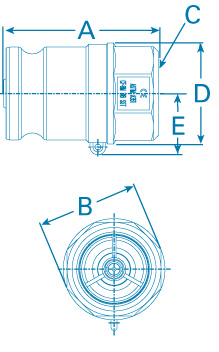 | | 1 1/2" | 2" | 3" |
| --- | --- | --- | --- |
| A | 4-3/4" | 4-15/16" | 6-17/32" |
| B | 2-1/2" | 3-1/4" | 4-1/2" |
| C | 1-1/2" | 2" | 3" |
| D | 2-21/32" | 3-1/4" | 4-7/8" |
Repair Kits
Coming soon
Parts Breakdown
Coming soon
Temperature/Pressure Chart
Flow Chart
Coming soon
Temperature Chart
Coming soon
Kamvalok Operation
Approvals
| AAR Number | Description |
| --- | --- |
| E129504 | 1600AN Series Kamvalok Adpater – Threaded |
| E129505 | 1600ANF Series Kamvalok Adapter – Flanged |
| E129507 | 634B/733DCL Series Kamlok/Autolok Dust Caps |
| CRN Number | Region | Description |
| --- | --- | --- |
| OA4911.52 | Alberta | 1.5", 2", 3" Aluminum and SST Kamvalok |
| OA4911.5R1 | Ontario | 1.5", 2", 3" Aluminum and SST Kamvalok |