AdBlue Storage Tanks – Self Bunded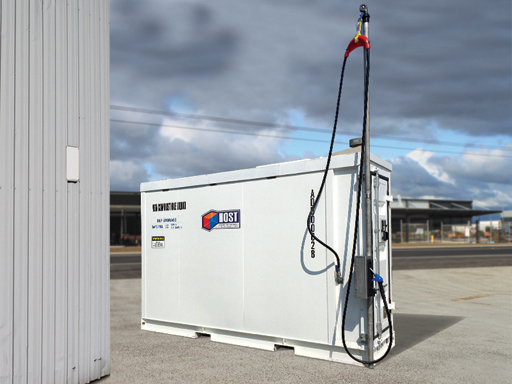 When you're looking to safely store and dispense AdBlue Liquip Victoria can assist with a cost-effective, custom designed, certified Self Bunded Tank solution.
Our Standard SBTs range in size from 3,000 L to 20,000 L (safe fill levels). Although AdBlue is a clear, non-toxic and safe to handle liquid solution, it is highly corrosive, so it must be stored and transported carefully. Our main range of storage solutions take this risk into account and are manufactured with a 40 mm insulated Stainless Steel internal tank to ensure a consistent internal temperature and to prevent against contamination with other products and the environment.
Each of the tanks in the range can be fitted with your choice of pumping and metering solutions and are manufactured and fitted out with the highest quality components and systems. To discover more about this range and the other AdBlue storage options we can supply please contact a member of our sales team or take a look at the standard features, certifications and specific sizes below.
AdBlue Stainless Steel Insulated Self Bunded Storage Tanks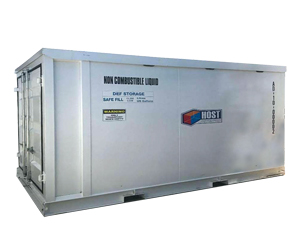 Self Bunded AdBlue Tank Features
> High quality steel outer tank shell, primed and painted with 2 coat marine grade epoxy (260 um minimum coat finish)
> Stainless Steel internal tank with hatch with 2 inch and 3 inch ports
> 40mm of insulation between the two tank walls to assist in controlling and stabilising the AdBlues temperature.
> Front door access, with high quality heavy duty container locking bars
> Stainless steel suction and fill line piping
> 2 inch Stainless Steel Drybreak Adaptor fitted to fill line
> 2 inch Stainless Steel Y-Strainer fitted to suction line
> Pump (Dependent on number of dispensers)
> Stainless Steel Overfill Valve
> Stainless Steel Anti-syphon Valve
> Grate mesh floor in pump bay section
> Manway on top to access internal Stainless Steel tank.
> Lifting lugs on roof for easy movement
> Forklift access points for safe lifting and movement
> Side access panels for remote pipe connections
> Optional level gauge and sump sensor

Cube Tank Sizes & Standards

Fitting options
> Pumps (Dependent on number of dispensers. Please contact Liquip Victoria for more advice on pumps and dispensing systems)
Certifications
> AS1692-2006 Steel tanks for Flammable & Combustible Liquids
> AS1940-2004 The storage and handling of Flammable & Combustible Liquids
> Above ground Storage Tanks for Petroleum products
---

---
Did you know?
When you buy an SBT from Liquip Victoria, you are not just buying a tank, you're buying a complete bulk liquid storage solution. Not to mention that we offer a complete turnkey solution as part of the purchase.
This includes:
► Selection and advice on the best suited tank solution
► Custom tailored pump dispensing and monitoring system design with multiple options to choose from
► Fit-out of pump dispensing equipment and systems onto the tank
► Delivery, installation and set-up of the tank on-site, along with commissioning
► Option of on-going servicing and maintenance of tank on-site.
For more information about our range of HOST Self Bunded AdBlue Storage Tank solutions please contact us today.