HOST Single Wall on ground Farm Tanks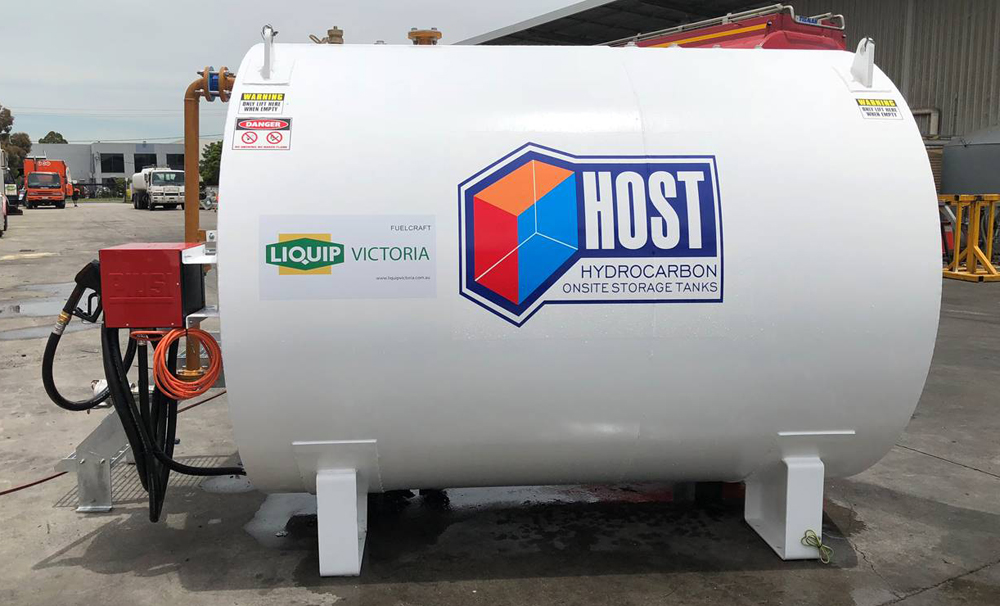 Cost-effective on ground diesel storage and dispensing and never looked this good or well priced.
HOST Single Wall on ground round shaped Farm Tanks are designed for easy bulk or nozzle filling and set up to mount a variety of dispensing pump solutions. They provide a safe environment, removing the need to climb up ladders or unsafe stairs found on gravity fed tanks. Offering low maintenance and installation costs these tanks come in three sizes:
► T4.5 – 4,500L ► T9 – 8,500L ► T18 – 17,500 L
Dispensing is simple with a large range of custom fitted and complete turn key pump solutions in 12V, 240V or Solar powered options, making them an ideal stand alone refuelling system. We can supply this tanks fitted and ready to use as a complete turnkey solution to site.

HOST Farm Tanks – Single Wall Diesel Storage

What can be included in you tank and the sizes available
Standard Farm Tank Features
• Solid and durable round single wall tank, designed to handle Australian conditions
• Safe Fill Levels: 4,500 litres, 8,500 litres and 17,500 litres
• Paint finish – White, two pack epoxy marine grade
• Fast fill 80 mm connection or nozzle fill position option
• Sturdy galvanised stairs to access dip point (no ladder required)
• Calibrated dip sticks
• Galvanised Vent Pipe with Updraft Vent
• Various port openings on tank top for gauging or other uses
• Lifting points on tank for easy manoeuvrability
• Warning decals for combustible application
• Great under tank visibility for inspections
• Heavy duty support legs with cradle strap, ready to fasten to concrete pad
• Pump package options available (Installed or in kit form).

Single Wall Farm Tank Sizes

Pumps, Meters and Fuel Management Systems
STANDARD DISPENSING SYSTEMS
> Solar Pumping Off Grid (8 m Auto Nozzle) – up to 80 L/pm
> Mains Power with Mechanical Meter – up to 100 L/pm
> Fuel Management System – up to 80 L/pm
CUSTOM DISPENSING SYSTEMS
> View our range Transfer Pumps, Flow Meters and FMS ranges and request a custom designed dispensing system to be fitted to your HOST Farm Tank of choice.

---
Did you know?
When you buy an SBT from Liquip Victoria, you are not just buying a tank, you're buying a complete bulk liquid storage solution. Not to mention that we offer a complete turnkey solution as part of the purchase.
This includes:
► Selection and advice on the best suited tank solution
► Custom tailored pump dispensing and monitoring system design with multiple options to choose from
► Fit-out of pump dispensing equipment and systems onto the tank
► Delivery, installation and set-up of the tank on-site, along with commissioning
► Option of on-going servicing and maintenance of tank on-site.
Interested in learning about the benefits and key advantages of on-site bulk liquid storage? Then read our article, 'Seven ways on-site bulk liquid storage saves time and money'
---
To discover more about our complete range of HOST Farm Tanks please contact a member of our sales team. Now you can cost-effectively store and dispense diesel on-farm from a safe, quality and secure tank solution.