HOST Self Bunded Refuelling Tank Trailer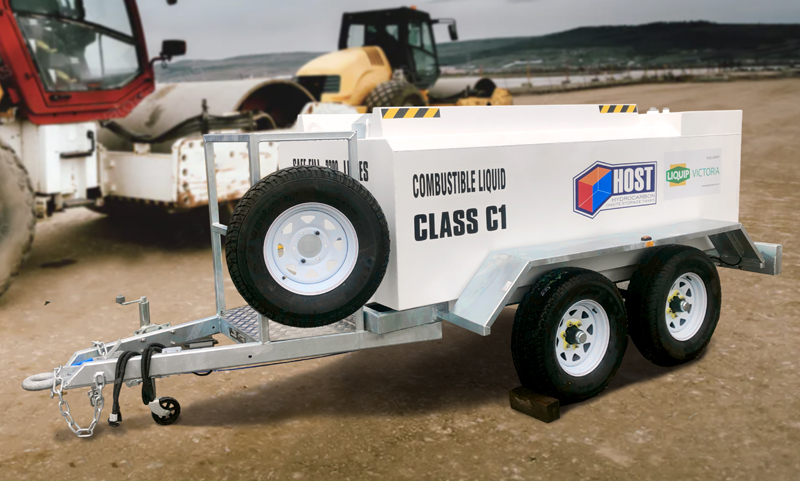 Improve your ability to refuel equipment and machinery on-site and help aid productivity.
The HOST range of Self Bunded Refueling Trailers provide efficient and economical means of fuel delivery and are the perfect solution for keeping equipment and machinery fuelled and running. ADR and AS approved, they are able to be registered in any Australian state or territory and supply fuel where ever you need it fast. There are 3 tank sizes available, all are configured to safely store and dispense diesel:
► LST1000 – 1,000L ► LST1500 – 1,500L ► LST2200 – 2,200 L
Dispensing is simple with a large range of custom fitted and complete turn key pump solutions in 12/24 Volt and Solar powered options, making them an ideal transportable refuelling solution
HOST Refueling Trailer Self Bunded Tanks Trailers

What can be included in you trailer and the sizes available

Standard Trailer Tank Features
Integrated Roll-over Protection System with transport industry standard manhole cover and pressure release vent
Fully galvanised trailer for improved corrosion resistance
Trailer designed for on and off road capability
Standard specialised three pack paint
specification for fuel tanks
Robust dual axle assembly, complete with standard 15 inch tyres and spare
Large lockable storage compartment
3500 kg electric brake system
Breakaway system
Suction pipes (2x50NB, 2x25NB)
Self Bunded Tank
Ample storage locker at rear is supplied as standard and is lockable
Jockey wheel
Walkway access to front hatch
Baffled tank

Refueling Trailer Sizes

Pumps, Meters and Fuel Management Systems
STANDARD DISPENSING SYSTEMS
12/24 Volt Diesel Pump Packages, Meters, Filtration
Fuel Management System, NMI Approved
Solar powered or diesel driven/powered pump
CUSTOM DISPENSING SYSTEMS
Certifications
Designed to Australian Standard VSB1
Australian Design Rules (ADR) Approved
Displaying 0 to 0 (of 0 products)

---
Did you know?
When you buy an SBT from Liquip Victoria, you are not just buying a tank, you're buying a complete bulk liquid storage solution. Not to mention that we offer a complete turnkey solution as part of the purchase.
This includes:
► Selection and advice on the best suited tank solution
► Custom tailored pump dispensing and monitoring system design with multiple options to choose from
► Fit-out of pump dispensing equipment and systems onto the tank
► Delivery, installation and set-up of the tank on-site, along with commissioning
► Option of on-going servicing and maintenance of tank on-site.
Interested in learning about the benefits and key advantages of on-site bulk liquid storage? Then read our article, 'Seven ways on-site bulk liquid storage saves time and money'
---
To discover more about our complete range of HOST Refueling Trailers please contact a member of our sales team. Now you can cost-effectively dispense diesel in a more productive and efficient way.