Petrogas Shepparton's new fuel depot and self service unmanned petrol station
Category: Bulk Liquid Storage and Terminal Solutions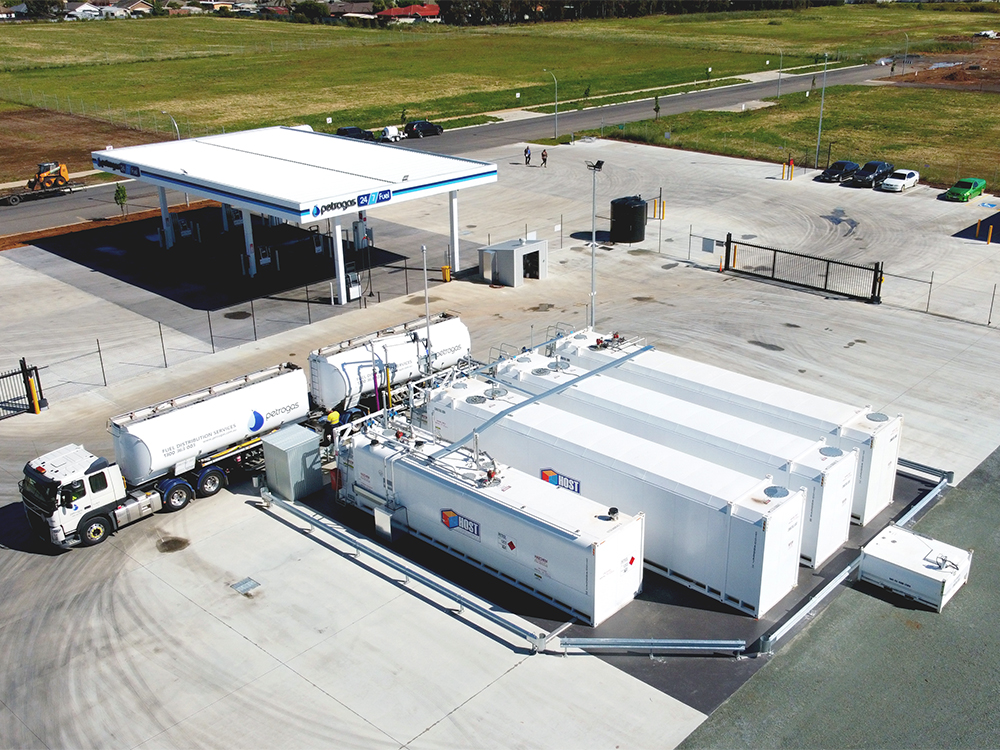 Liquip Victoria delivers Petrogas and Shepparton a new 24/7 unmanned service station and 385,000 litre on-site bulk fuel depot, with accompanying lubricants warehouse and site office.
Located directly across from the Shepparton sale yards, independent fuel company Petrogas has expanded its business footprint with a new five above ground tank bulk fuel depot and B-double truck and light passenger vehicle 24/7 accessible unmanned petrol station. This project marks a significiant achievement for the team here at Liquip Victoria, as it exhibits the full service model we offer when it comes to the delivery of bulk fuel installations. Our in-house team has been set-up and constructed to deliver projects from inception through to activation, covering all aspects of the design, build, installation and commissioning, and this effort proves its full set of capabilities and worth.
A 12 month project, successfully managed through the strict covid-19 mandates, our team of mechanical & electrical engineers, designers and project managers assisted Petrogas delivery a state-of-the-art, DG approved and compliant bulk fuel storage depot with service station forecourt. The initial key component of focus for the team, from which all site additions flowed from, was the 385,000 litre main bulk fuel storage set-up.
Bulk fuel depot configuration

> Four HOST ISO Classic Self Bunded Tanks (3 x 110,000 L diesel storage tanks and 1 x 55,000 L ULP91/ULP98 duel compartment combo storage tank)
> Combined 385,000 L diesel and ULP storage capacity (with additional AdBlue storage tank)

> Customised Liquip Equipment Parts loading and dispensing terminal, with safety and tank level monitoring system
> Purpose built to hold and dispensing fuel to the Petrogas Fuel Distribution Fleet
> Designed and engineered to serve both petrol station forecourt facility and Petrogas Fuel Distribution Fleet
> Compliance with all national and petroleum industry standards and requirements
Take yourself to Shepparton now (click the image above) and watch our video for a more in-depth look at the project.

In the past, Liquip Victoria has successfully designed, built, installed and commissioned many similar small and large scale fuel and lubricant depots, however what made this project unique was the addition of a forecourt unmanned 24/7 accessible petrol station. In order for the the bulk fuel depot to supply the forecourt our team was afforded the opportunity to engage our extensive skill set to design, plan and implement the necessary double wall underground piping system to supply the onsite Wayne Dispensing Bowers with automated OPTs (Outside Payment Terminal). This required working in hand and project managing civil contractors and the forecourt canopies construction, along with the installation of the dispensing equipment and payment system. We also facilitated the mandatory addition of AdBlue supply, via specialised dispensing bowsers.
All in all the bulk fuel depot supported not just the bulk dispensing of diesel and ULP derivatives to Petrogas' Road Tanker fleet, but a five bowser undercover petrol station construct. (The accompanying lubricant storage shed and site office seen in the imagery was part of our project site design and planning, but were delivered through assisting contractors). And as part of the delivery solution, an agreement has be made for Liquip Victoria to provide ongoing servicing and maintenance of the sites equipment, to ensure optimal performance and routine safety compliance.
Delivering more than just bulk fuel to the Petrogas Distribution Fleet
On completion of the project, Petrogas was most excited by the result delivered by our team, however the additional benefits that flowed out to the local Shepparton community was what also excited them.
"This self-serve facility will provide competitively priced fuel that can be accessed by our existing bulk fuel customers as well as the general public."

"The concept of self-serve enables us to provide a low-cost operation."

"That enables us to bring a competitive fuel offer to the customer." Petrogas advised.
And from our side of the fence business owner Jeff Borg thanked Petrogas and his team.
"We offer a big thank you to Petrogas for entrusting us in supplying fuel equipment solutions across their business – including depots (such as here in Shepparton), tanks, trucks and general service."

"I was also pleasing to see that after years of dedicating our business to become a more one-stop-shop and solution focused entity, that this project is a direct culmination of a lot of peoples hard work and vision."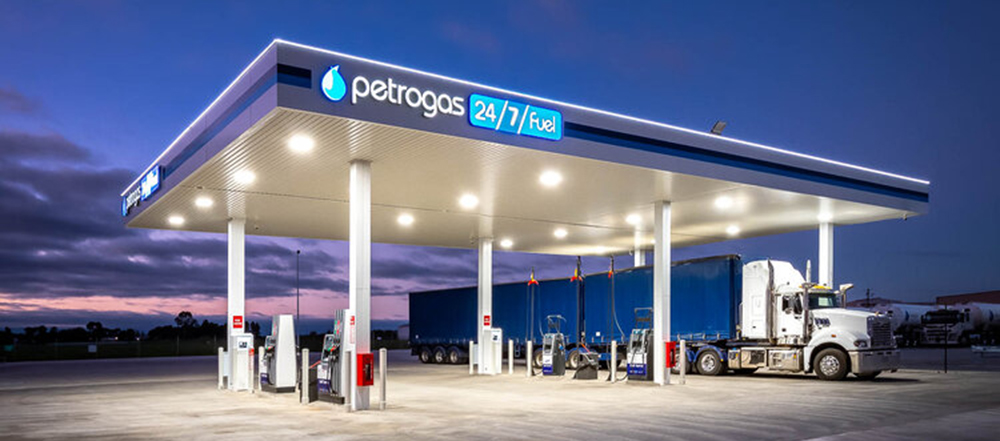 If you have a requirement to build a bulk fuel storage tank depot, with or without a service forecourt, inclusive of high quality pumping and fluid management systems and self bunded tanks, that can deliver beyond your key requirements, please contact our dedicated projects team here at Liquip Victoria. Our experience in this field or work is highly regarded and can assist with an on-time and on-budget world class solution.
You can read more about our range of Self Bunded Fuel Storage Tanks and Liquip Dispensing Parts used in this project here on our website.