Simple to use, compact and versatile - the all new Piusi EX100 Drum Pump
Category: Bulk Liquid Storage and Terminal Solutions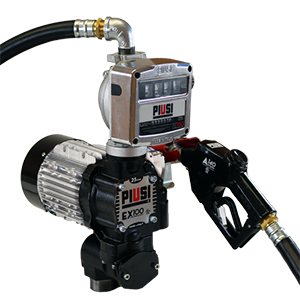 The new PIUSI EX100 DRUM PUMP KIT is part of their EX range. It's suitable for the transfer of petrol, kerosene and diesel, offering high performance and continuous duty. This kit confirms Piusi's big commitment towards manufacturing pump solutions for the transfer of highly flammable liquids in and out of storage vessels.
ENJOY HIGH PERFORMANCE IN CONTINUOUS CYCLE
Together with the rest of the PIUSI EX range, the EX100 DRUM PUMP kit ensures high and constant flow rates, even when used in complex systems. A flow rate up to 100 L/min ensures swift and speedy transfers, saving time and money. The pump is 240V powered, yet can be configured to different voltages if required, making it a powerful and reliable system.
PEACE OF MIND FROM ATEX CERTIFIED QUALITY
The PIUSI EX100 DRUM PUMP is ATEX certified and complies with the current principles to prevent explosions inside or outside the pump, due to possible components that can trigger the transferred fluid or the surrounding atmosphere. PIUSI EX100 is safe, reliable and specifically made for markets where ATEX certification is required in order to use transfer systems in potentially dangerous environments.
KIT COMPONENTS
One of the key aspects of this kit is that includes a multitude of high quality components, ensuring strong reliability, great accuracy and longevity in performance. The complete kits includes:
> EX100 Pump
> Nozzle Holder
> 2" Tank Connector
> 90° Flanged Elbow
> K150 ATEX Meter
> A140 ATEX Automatic Nozzle
> Delivery Hose
> Instruction Manual
All components can also be purchased individually should you wish to construct a specific customised kit. For more information about this exciting solution and the different component packages it can be purchased in take a look at our detailed website product listing or call the Liquip Victoria sales teams on 03 9311 7822 for further advice and ordering. You, like us, will be very impressed with this products capabilities and its ability to consistently perform to a high standard. It's the perfect system accompaniment to our elite range of Self Bunded Tank solutions and your own flammable liquid transfer needs.