110,000 litre Undercover Duel Fuel Refuelling Stop
Category: Bulk Liquid Storage and Terminal Solutions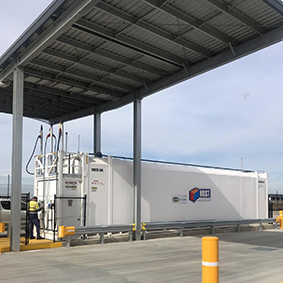 We're excited and proud to announce the completion and delivery of another custom designed bulk fuel storage solution for a major transport group.
It'll keep their trucks and container cranes refuelled with both Diesel and AdBlue. Our HOST Duel Fuel T110 Self Bonded Tank (holding 95,000 litres of diesel fuel and 10,000 litres of AdBlue (DEF)) was the solution implemented, and is fitted with diesel fuel hoses on both sides to ensure fast and efficient refuelling. The AdBlue hose can reach either side of a vehicle too. Fuel delivery is managed and monitored by a Smartfill Gen 2 FMS system, offering remote access to manage all transactions, fob key security and realtime tank gauge volume level reading of both the Diesel and AdBlue products. This undercover refuelling stop will also be much appreciated by drivers, should the weather be inclement.
This solution was designed and manufactured in at our Derrimut Victoria facility, then delivered and commissioned on site. Ongoing maintenance and support of this installation will be managed by our dedicated service team as part of a 24/7 on call operation. Now this is what we call Solution Focused, Service Driven customer performance!
Contact us today on how we can custom design you a refuelling stop utilising a HOST above ground Self Bunded Duel Fuel solutions.